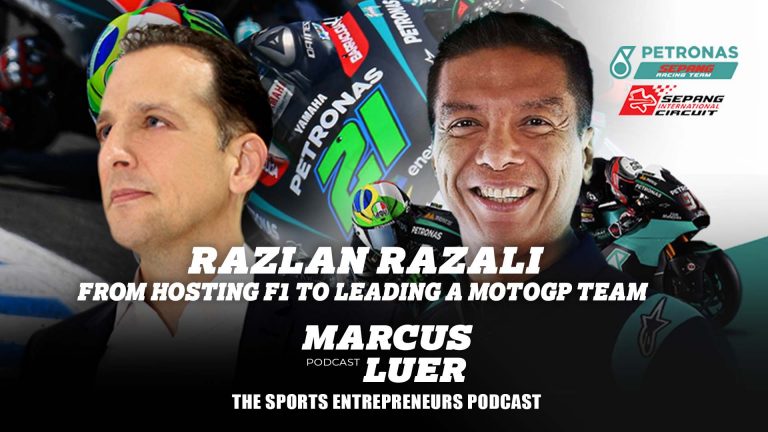 "From Hosting F1 to Leading a MotoGP Team "
Dato Razlan Razali is living his childhood dream from running Sepang International Circuit (SIC) for over a decade, hosting F1 and MotoGP races and turning the loss-making facility into a sustainable business to turning his passion for motorcycling into being the Team Principal of the Petronas Yamaha Sepang Race Team which is taking MotoGP by storm the last two seasons and is on the verge of winning the Championship.  Listen, learn and be inspired by his stories on how to build a successful Racetrack and how those learnings helped him to create a very successful MotoGP racing team. 
His career start, selling his first company, starting a concert company with his brother and his first job interview for the CEO role of Sepang International Circuit (SIC) which didn't go so well. Persistency paid off and he became the CEO of SIC in 2008, few weeks before the MotoGP race
Early days at SIC, he inherited a mess and had a culture shock,  rolled up his sleeve and started to make changes
Starting to charge for everything in and around the track to generate new revenues.  More professionalism and commercialization was the key.
Turn SIC into a multi facet venue –  "a ballroom under the sky"
Hosting Formula 1 at SIC stories, his first meeting with Bernie Ecclestone, again didn't go so well……
2009 the first F1 race under his leadership, made changes, focus on what's best for SIC and Malaysia and disregarding F1 and the arrogance of F1 teams
Till the end, it was never a happy marriage with F1, race became jaded, nothing new and was eventually dropped
MotoGP was the opposite, Dorna's Carmelo Ezpeleta was open to all his ideas and wanted to do more, the growth and success of the race since then is proof   
Very vocal when F1 race was dropped,  "even given for free, Malaysia would not host F1 race",  Reuters headline worldwide
Revealing the fee SIC paid to F1 and the reasons why the Prime Minister of Malaysia asked him to get out
MotoGP success stories, how it all started, creating local heroes by starting a young rider search, academy and having wild card riders in Moto3 (125cc category)
Created the first SIC Moto3 team in 2015,  challenge taking riders from "Kapcai" racing on the streets of Malaysia to a full fledge racing machine in Europe (money, motivation and mindset)
Lots of talented local riders in terms of skill but most lacking mental strength
First Season in MotoGP in 2019 – lady luck played a role – stories of how it all started – his childhood dream came true
Petronas played a key role in taking over a financially struggling MotoGP team
How he found "Fabio" (Quartararo) – stroke of luck and how he came out blazing from the start and winning "Rookie of the Year" award, first podium till leading standing now
His thoughts on winning the MotoGP Championship this year – original target was to just win the "first" race  (which they did with the first & second race of the season)  
Superhumans – stories of his riders dealing with crashes
Valentino Rossi – the Doctor is joining the team in 2021 – the story behind it (and Fabio leaving to Yamaha Factory team)
MotoGP "bubble", how it's working, SOPs, rules, regulations and restrictions – importance of team talks
His prediction for the Championship with four races to go
His final thoughts on the future of Motorsports after Covid – difference between F1 and MotoGP
Dato Razlan Razali is a dynamic and highly successful Senior Executive with extensive high-level successes across a wide variety of industries, including world-class event management. First-class leadership skills with excellent marketing and sponsorship development experience in both national and international arenas. Consistently aims for the highest standards on a personal and corporate level. Proven ability to generate innovative growth strategies for successful and profitable companies.
Major Achievements
Sepang International Circuit receives Training Support Excellence Award 2016 at the BSI Client Appreciation Night by BSI Services Malaysia Sdn Bhd.
Sepang International Circuit was awarded Project Owner of the Year Award 2016 at Shell Bitumen Technical Conference & Customer Appreciation Dinner by Shell Malaysia.
Sepang International Circuit was awarded the Global Branding Award 2016 in theGlobal Brands Icon in Motorsport by Global Brands Council.
Sepang International Circuit receives Utusan Business Award 2015 in the category of Sports Entertainment Sector.
Sepang International Circuit was awarded the Best Event Management Company for Excellence at the rAWr Awards 2015 by the Malaysia Convention and Exhibition Bureau (MyCeb) and the Malaysia Association of Convention and Exhibition Organisers and Suppliers (MACEOS).
Sepang International Circuit received the Bronze Award in the Corporate Branding category at the Malaysia PR Awards 2014/2015.
Sepang International Circuit was awarded for its excellence in the Industry Class in Meetings, Incentives, Conventions and Exhibitions ("MICE") in the State of Selangor, Malaysia in 2014.
Sepang International Circuit received OHSAS 18001:2007 certification in 2013.
Sepang International Circuit received the Best Grand Prix Award in 2012 for Malaysia MotoGP by the International Road Racing Team Association ("IRTA")
Sepang International Circuit awarded Certificate of Excellence from TripAdvisor 2012.
Sepang International Circuit received ISO 9001:2008 certification in 2011.
Sepang International Circuit was awarded the coveted Facilities Improvement Plan Fund in 2010 by the Federation Internationale de L'Automobile ("FIA").
Masterminded the creation and development of Pineapple Concerts (a successful Malaysian events management company); led the organisation, promotion, marketingand sponsorship of large-scale sell out events, including huge concerts by major international artistes the Black Eyed Peas, Lionel Richie, Earth, Wind & Fire and Kanye West.
Championed and led the first mobile e-tickets programme in Asia.
Successfully raised USD6 million in capital investment for WAP Portal Sdn Bhd from a listed Malaysian company and a listed company from Singapore, convincing both companies to invest based purely on a concept presentation with no physical product, which clearly demonstrates high level influencing/negotiation skills.
Consistently worked at Board Level as Director, Non-Executive Director and on the Audit and Remuneration Committees for a major mechanical and electrical service public listed company, Bintai Kinden Corporation Berhad.
THE VIRTUAL SPORTS ENTREPRENEURS UNIVERSITY
If you are enjoying the Sports Entrepreneurs Podcast (SEP) series, check out our Virtual Sports Entrepreneurs University (SEU) too.
The Sports Entrepreneurs University is a natural extension of the Podcast series. It's a deep dive into the world of Sports & Esports. Marcus will be sharing his 25 years experience and learning as a Sports Entrepreneur and connecting the dots. It's a 6 weeks course with an opportunity to join an Affiliate Partnership program after. Check out for more details HERE
CHECK OUT OUR OTHER EPISODES