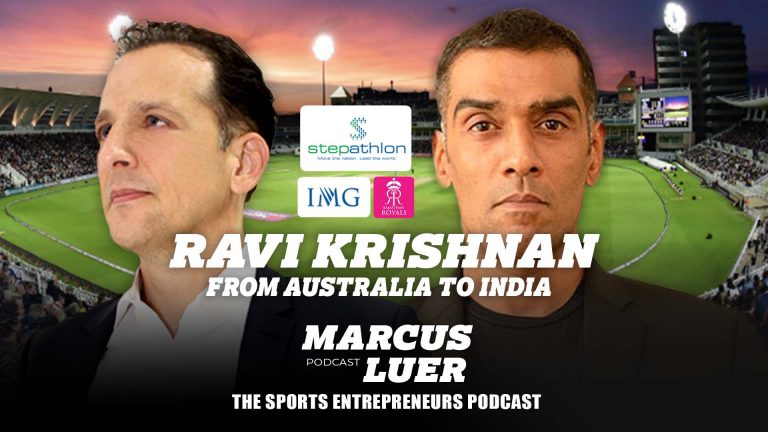 "From Australia to India"
Ravi Krishnan is a true pioneer in Indian sports, from Australia with Indian origin, he was part of the team which set up IMG India 25 years ago and later on lead the organization.  We take a good look into what has happened over those 25 years in Indian sports and where it is heading in the future, including his own venture Stepathlon.  Enjoy the history lessons.
From being an inspiring youth tennis player in Australia to getting even more inspired reading an article about Mark McCormack and his route to get into IMG
Part of the team to set up IMG India in the mid 90s, getting the basic right
Hospitality of Cricket World in India in 1996 opened the doors to all the corporates, building relationships which lasted till today
Sahara Cup in 1997, India vs Pakistan in Toronto, another game changer (it's war minus the shooting)
First ATP tournament in India in 1996, still around till today, not an easy start and not a huge initial success
Inside look into the IPL and how it started, why it worked and the ingredients which made it work
Franchise Model, the "Indian way" – and how other sports are now copying it in India with mixed success
Banter on Media rights model
Football in India & IPTL model dissected
Stepathlon – virtual racing, his vision, being a health & wellness company which brings a new form of "fan engagement" and activation to brands and stake holders (data driven)
Final advise for young execs – network, move and be prepared to fail
And look into the future
Ravi Krishnan is a key and prominent name in the business of Sports, Entertainment and Media in India. According to BusinessWorld he has been a pioneer in India's sports management business, helping global sports and media group IMG find a foothold in the country back in 1995.
As Managing Director of IMG he was instrumental in creating properties such as the Sahara Cup, The Aircel Chennai Open, Lakme India Fashion Week and many more noteworthy events in India. He has played a notable role in developing potential new business opportunities in the field of Sports, Entertainment and Media. Ravi continues to explore and develop business in the Industry and helped secure Mahindra & Mahindra as the title sponsor of the inaugural Mahindra Sri Lanka Premier League.
As Vice Chairman, Ravi also played an important strategic role with Rajasthan Royals, champions of IPL 2008.
Ravi was featured among the 50 Most Influential People in Indian Sport by Sports Illustrated (2010) and India's Top 25 Executives under age 40 by Business Today (2004).
Currently, he is the Chairman and Co-Founder of Stepathlon Lifestyle Pvt. Ltd. (SLPL), a global wellness company that aims to create an ecosystem promoting corporate health, fitness and productivity by increasing daily activity, through a unique Mass Participation initiative called Stepathlon – A race around the virtual world. In the last two years, Stepathlon has contributed towards gaining participation from more than 500,000 employees from 722 companies across 75 Countries and 1040 cities/locations.
THE VIRTUAL SPORTS ENTREPRENEURS UNIVERSITY
If you are enjoying the Sports Entrepreneurs Podcast (SEP) series, check out our Virtual Sports Entrepreneurs University (SEU) too.
The Sports Entrepreneurs University is a natural extension of the Podcast series. It's a deep dive into the world of Sports & Esports. Marcus will be sharing his 25 years experience and learning as a Sports Entrepreneur and connecting the dots. It's a 6 weeks course with an opportunity to join an Affiliate Partnership program after. Check out for more details HERE
CHECK OUT OUR OTHER EPISODES