Asia's #1 Sports Marketing Entrepreneur
"Generated over US$ 500 million in Revenue for Sports in 20 years….. and now working on US$ 1 Billion in the next decade"
Founder & CEO
Total Sports Asia (TSA)
Total Sports Asia is a fully-integrated sports marketing company offering media rights distribution, TV production, events management, sponsorship and consultancy services.
Founder & CEO
Total Esports (TES)
TSA Group has set up a new entity, Total Esports (TES) to provide our core and flagship Services which have generated over US$ 500 million for the sports industry the past 20+ years to the booming Esports industry now.
Founder & CEO
Branded Real Estate (BRE)
Branded Real Estate incorporates a globally recognized brand into the property project which over the last ten years, has been involved in projects with a combined GDV value of over US$1 billion.
Co-Founder
GLORY Sports International
GLORY is the #1 Kickboxing League globally with events across Europe, USA and China and with a global audience footprint across 200 countries which is currently valued over US$150 million.
MARCUS LUER is the Group CEO of TSA (Total Sports Asia), Asia's leading global sports marketing agency which he founded 26 years ago in Kuala Lumpur, Malaysia.
He is also the Co-Founder of GLORY Sports International (GLORY), the #1 Kickboxing League in the world and the creator of Branded Real Estate (BRE), a brand consulting business to the Real Estate industry.
MARCUS LUER has been an active member of YPO Malaysia (www.ypo.org) since 2007, holding various leadership roles and currently being the Chapter Chair of YPO Gold Malaysia and the Regional Chair of the Sports & Entertainment Industry Network (SEIN) in ASEAN…
🎧🔥 Embark on an exploratory journey with us into the life of Marcus Luer, who has transformed his passion for sports into becoming Asia's #1 Sports Marketing Entrepreneur.

As Marcus unveils his strategic thinking, challenges, and victories that have shaped his remarkable career in sports industry careers, you will gain invaluable insights.
This episode is a must-watch, whether you're an aspiring sports manager, entrepreneur, or a fan eager to understand the art of turning passion into a thriving profession!🔥🎧
Full Podcast Episode: Spotify Podcast
Despite occasionally rubbing World Famous Man-Mountains up the wrong way, Marcus Luer has carved out an incredible role for himself within the TV Licensing world. He's a proper sports entrepreneur.
Through his business he's worked on television deals for every sport from football, to golf, and professional wrestling to tennis.
His audience covers 3.5 billion people, and he oversees hundred million dollar agreements involving some of the biggest sporting brands in the world.
This episode is filled with great stories and huge business. It's a fascinating insight behind the scenes of an industry we all love.
Full Podcast Episode: Apple Podcast
S3 E077 Marcus Luer, Sports Entrepreneur, CEO and Founder, TSA Group TITLE: The inspiring story of serial entrepreneur Marcus Luer
The Brand Called You is pleased to welcome serial entrepreneur from Thailand Marcus Luer on the show. Marcus is a member of the Young President Organisation and a podcast host himself! He is the Founder and TSA, TES, TDG, HUBBER, BRE & GLORY.
In conversation with host Ashutosh Garg, Marcus takes us through his incredible journey as a sports entrepreneur and leader. Driven by the idea of trying out new things constantly, Marcus has a number of businesses to his name. Marcus has launched 8 business ventures in the pandemic itself!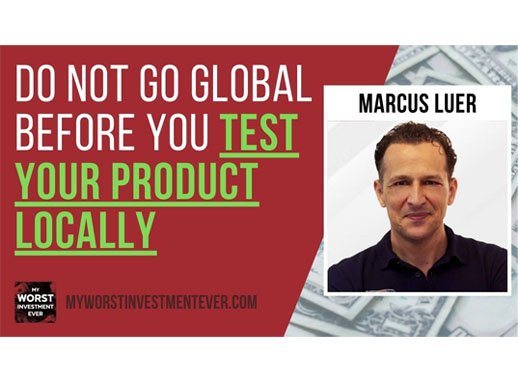 Marcus Luer is Asia's #1 Sports Marketing Entrepreneur and the Group CEO of Total Sports Asia (TSA), Asia's global sports marketing agency, which he founded 23 years ago in Kuala Lumpur, Malaysia.
"Pivoting is important, but I think you also got to be careful not to distract yourself too much." – Marcus Luer
Full Podcast Episode: Youtube & myworstinvestment.com
Corporate Events
Activities
Family